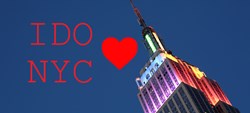 New York (PRWEB) January 14, 2014
With Valentines Day just a month away, many couples will celebrate their love by forming a legal union. A City Hall wedding has always had a certain element of grit and hipness, but can it be fabulous? At Duane Street Hotel in Downtown New York, that answer is a resounding yes, thanks to the "I Do NYC" Package and the recently renovated Manhattan Marriage Bureau.
Duane Street Hotel is just five blocks away from the Manhattan Marriage Bureau, one of the closest hotels. Renovated in 2009, the bureau is adorned with chandeliers, modern furnishings, and marble pillars.
"Whether the couple lives in NY and wants to get married locally or is traveling to celebrate DOMAs declaration as unconstitutional, the I Do NYC Package has all the elements to make the big day City Hall-chic," said Nicolas Daeppen, general manager of the Tribeca lifestyle hotel. "Getting married at City Hall has a whole different feel in New York, especially when you stay at Duane Street Hotel."
With the "I Do NYC" package couples receive: